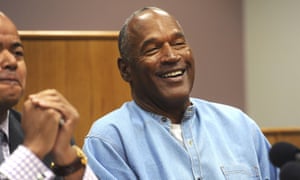 OJ Simpson will no longer be welcome on the USC campus when he's released from prison in October. Photograph: Prensa Inter/REX/Shutterstock
OJ Simpson will no longer be welcome on the University of Southern California campus where he rose to national fame on the gridiron when he's released from prison in October.
USC football coach Clay Helton said Simpson, who was
granted parole last week in Nevada
after serving nearly nine years in a Nevada prison for a botched robbery attempt, would not be permitted to attend a Trojans practice.
"Right now with USC, what the administration and the athletic department have said is, no, OJ will not be a part of our functions," Helton told ESPN on Thursday. "That's been the statement."
Simpson, who starred for the Trojans when he captured the Heisman trophy as college football's best player in 1968, has served the minimum nine years of his 33-year sentence for the robbery and could be released as early as 1 October.
Although Simpson's alma mater has distanced itself from the one-time football star turned Hollywood actor ever since he stood trial in the 1994 killings of his ex-wife, Nicole Brown Simpson, and her friend Ronald Goldman, the school continues to display his retired No32 jersey at the Los Angeles Memorial Coliseum during USC home games and a replica of his Heisman trophy on campus.
Simpson has reportedly attended only one USC practice since he was acquitted in the double homicide: a 2002 workout in Florida while USC prepared to face Iowa in the 2003 Orange Bowl.
"It was good to have him out here," then-USC coach Pete Carroll told the Los Angeles Times. "At 'SC, our guys hold a Heisman Trophy winner in the highest regard. For them to get a chance to see him and visit with him was very special for them."
Last week, officials from the Pro Football Hall of Fame said Simpson will remain an annual invitee to the induction ceremonies. The former running back has not attended since he was enshrined in 1985.
Source: The Guardian